Getting There
Waking up at 2:30am is never my favorite, however knowing that by doing so I will be on a tropical island soon it makes it a little better. This was our first time visiting Barbados. Everyone I talked to about our trip asked "So, where is Barbados?" Barbados is an island in the Caribbean that is the farthest east and it is also pretty far south. It lines up with the bottom half of Nicaragua. The locals are all very nice and welcoming. Pretty much everyone speaks at least some English. They usually prefer U.S. Dollars even though they do have their own currency. The Barbados Dollar is about twice the U.S. Dollar.
Most celebrities stay on the west side of the island since the water is calmer on that side. The ocean is rougher on the Atlantic side and it is also rough where the Caribbean Sea and Atlantic Ocean meet. There wasn't really a time when it was too hot while we were in Barbados since there was always a breeze. It is actually the most windy island we have ever been to. The water is a really pretty turquoise color, however in the last few years they have been having issues with seaweed. This is typically only on the beaches with rougher water though.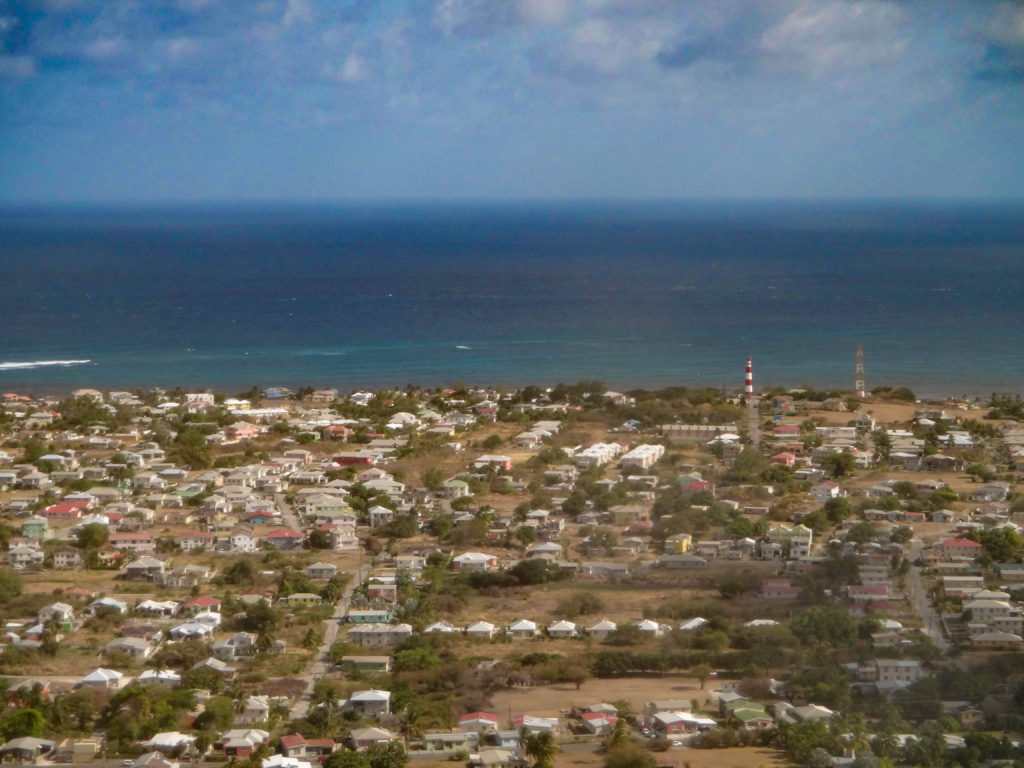 Where to Stay
We stayed at the Hilton which is at the bottom of the island and the ocean was pretty rough at our hotel. However, just a short walk away was a larger beach with calmer water. The hotel was nice and had two large pools and several restaurants. We ate at the hotel restaurants several times and all of the food was good. The first night we were there they were having a pasta night at the Lighthouse Terrace restaurant. We were tired from traveling and didn't want to have to find a restaurant in the dark, so this seemed like a perfect option. They had a buffet of food to go with the pasta and two cooks at the pasta station that would create anything you wanted. We also ate at the Water's Edge Bar for lunch by the pool several times and the food was really good. There was a BBQ night during our stay and we decided to try that as well. They offered a dinner and dessert buffet with a lot of great options and even had several people performing after the dinner.
Where to Eat
All of the food we had on the island was really good and a lot of the restaurants have great views. We did have trouble actually finding restaurants though. Many of the restaurants are not open all day and it is difficult to find a place that serves lunch. They also don't use yelp so you can't check reviews. After driving around the island for a while we were starting to get hungry. It took us a while to find a restaurant that was actually open at 2 p.m. and had a place to park. We ending up finding Mama Mia Italian Deli. We were the only people in the restaurant, but the food was good and they had plenty of parking in the back. All of us ordered a different type of pizza and salad.
One night, we ate at Pureocean and there were only 2 other groups there. It was right on the beach and the food was great. I would recommend the chicken and bacon pasta and the sweet potato fritters (basically deep fried sweet potatoes with cinnamon).
Another restaurant we ate at was Primo Bar and Bistro there are several restaurants on this street but little parking. We found a parking lot across street from the restaurant and it was $10 to park there, but if you eat a Primo they take it off your bill. The restaurant was nicely decorated and I really like the nautical rope stair case. You can see the ocean from every table in the restaurant and the food was great.
We had heard a lot of good things about Cin Cin by the Sea so we decided to try it. After we got there, we realized that it is owned by the same person as Primo, but they had a different selection of food. This restaurant was also well decorated and was on the ocean. The food here was also very good.
The last restaurant we went to on Barbados was Champers which also has an art gallery on the second floor. It is on the ocean and had really good food. Of all the restaurants we went to, this one seemed to have the most uptight clientele.
What to Do
Lighthouses
There are a lot of really interesting places to explore. As always, I wanted to go see the lighthouses. We made it to three of the four on the island. One was really easy to get to since it is located on the Hilton property. When doing research for our trip, I had read several reviews of the Harrison Point Lighthouse and they all said that it was difficult to get to and the roads were kind of sketchy. If the roads to the other lighthouses weren't considered sketchy, I can't imagine what it would have been like to go to that lighthouse.
All of the roads on Barbados are pretty rough. Most of them are no bigger than an alley and people park on both sides. Driving on the left side of the road is always an adventure for us, but this was worse. We experienced driving on the left in Turks & Caicos but it wasn't bad since the roads were wider and there were less people. Barbados is more urban than Turks & Caicos (1,704 people per sq mile vs. 98 people per sq mile) and the locals drive fast and always look like they are aiming for you. They also have huge buses that barley fit on the roads. While we were driving around the island, we saw quite a few monkeys just wandering around similar to how you see deer in the U.S.
Beaches 
When doing research for our trip, I knew that we had to visit Bottom Bay. The photos showed a white sand beach with wind blown palm trees surrounded by steep cliffs. We were not disappointed when we got there. There were only a few people on the beach which made it easier to take photos. There was also a large cave at the end of the beach.
Another beach that we went to was Paynes Bay. The water at this beach was a lot calmer. However, this caused the beach to be really crowded and there were several locals that stopped us to try to get us to buy something. It was difficult to find parking for this beach. All beaches in Barbados are public, but it is hard to access them.
One day we went to Bathsheba which was not a fun drive. It was really rough to get there since the roads are narrow, windy, steep and not well maintained. It was cool once we got there though. There are large boulders in the middle of the ocean which made for really unique photos. After that we started to head to Animal Flower Cave. One the way there my dad saw an entrance to Farley Hill National Park which you can drive through. There was an abandoned house which was destroyed by a fire in 1965 and two parking spots to get out and walk to the overlook. Animal Flower Cave is at the very top of Barbados. I originally thought that you could just walk into the cave, but they actually take you on a tour and it is a bit rough to get to the cave. There are steep stairs and lose rocks to climb over. However, it wasn't too bad since my mom and I were able to do it in sandals. Our tour guide was very knowledgeable and showed us animal flowers from which the cave got its name. There is a place to swim in the cave if you want to and also a restaurant and a few little shops. The restaurant had decent food and not a lot of choices, but the lemonade was really good. We were the last people in the restaurant since it closed at 3:00 pm.
Boat Ride
On all of our beach vacations, we like to go on a boat ride. We found Small Cats which had really good reviews and seemed like it would be a good fit for us since we like going on smaller boats with less people. They picked us up from our hotel and took us to the boat. When we got there, we saw a large boat with a ton of people on it that had clearly already starting drinking. My mom and I looked at each other and said "That's not our boat right?" They walked us towards the big boat and said "Didn't they tell you? Your tour was cancelled." When they saw the concerned look on our faces they told us that they were just joking and that we just had to walk across the big boat to get to our small boat. We were the only people that had booked a tour for that day, so we had the boat to ourselves. Our captain was Ed (or Edward, or Eddie, or Edwardo; he said he would respond to all of them). He started to take us out on our tour and told us about the places he was going to take us. My dad asked how long he had been doing this and Ed responded, "Oh, it's actually my first day," as he casually drove the boat with his foot. Ed was really knowledgeable about the area and he made sure to get a head start on the large party boat so that we wouldn't have to deal with a large crowd all trying to look at the same thing.
The first snorkeling spot we stopped at was where there were sea turtles. We got in the water and Ed threw food to the turtles as they swam around us. They were so closed that we were concerned that we might accidentally run into them. The next stop was where there were two ship wrecks; one intentional, one not. Ed told us the story of both ships and went snorkeling with us since he really enjoys swimming through the sunken ship. After our two snorkeling stops, we got to spend time just riding on the boat. Ed pointed out several buildings along the coast including Rhianna's condo and the Four Seasons that was abandoned.
Animals
The next day we went to Welchman Hall Gully. It is a park that you can walk around and see chickens, rabbits, turtles, and monkeys. They feed the monkeys everyday between 10:30 am and 12:00 pm. If you miss the feeding, you probably won't see any monkeys, the park isn't really large, but there are a lot of trees and the monkeys can hide really easily. It started raining about 5 minutes after we got there so we decided to wait under a shelter near the front of the park. Once it slowed down, we starting walking the trail. We didn't see any animals on the actual trail, just different types of plants. We decided to head back to see if they were feeding the monkeys. We timed it really well since less than a minute after we got back to the front, we saw them bringing out a box of bananas and the monkeys following closely behind. We quickly walked over to the viewing area and were able to get pretty close to them. After all of the food was gone, the monkeys disappeared into the trees. 
Miami Layover
After we had originally booked our flights, we received an email stating that our flight home had changed which added about 8 hrs to our trip. Basically there is only one flight out of Barbados and there are two out of Miami, but we would miss the first one. So we decided instead of sitting in the airport for 8 hours, we would rent a car and explore Miami.
Lifeguard Towers
All of us had been to Miami once before when we were passing through on our way to the Keys. Miami is typically not a place that we would visit since it is so crowded, but since we were there anyways I wanted to see some of the colorful lifeguard towers. We were able to see 6 of the 36 towers that span from South Point Park to 86th Street.
Lunch
We ended up having lunch at Larios on the Beach and it was really good Cuban food. Most people eat most people eat outside at the restaurants on Ocean Blvd. so we were the only ones in the restaurant. Since we were really hot from walking around outside, we decided to opt for the air conditioning. However, it started to rain so more people were coming in as we left. And then it started pouring. We went to the nearest store and bought umbrellas.
Shopping
Since rain isn't great for walking around on the beach, I looked up where the nearest Lilly Pulitzer store was. There are a lot of great stores in the Shops at Merrick Park in Coral Gables and it was actually really close to the airport which was convenient. We didn't have a lot of time so we only were able to go into a few stores (Kate Spade, Vineyard Vines and Lilly Pulitzer), but we had no trouble spending a lot of money in that short amount of time.