Getting There
Another early flight to Turks & Caicos – I really like my sleep but in order to get the most out of our trip we like to book flights that will allow us to get to our destination and still have time that day to explore. It just so happened that the day we were leaving was the day that Vineyard Vines for Target was being released. Many people asked Target when the collection would go live, but they we being really vague about it. Most people were guessing 3 am CST. Since I had to wake up at 2 am to get ready to go to the airport, I decided to check the Target website. Unlike the Lilly for Target collaboration, Target actually uploaded the entire collection beforehand and customers were able to favorite the items they wanted which made it a lot easier to check out day of. Luckily when I got on the website at 2 am everything was still available for purchase. I made sure to quickly check out and got everything I was hoping to get. So, I guess that is one advantage of a crazy early flight.
It has been raining a lot the past few months in St. Louis and we have had a lot of roads that are closed due to flooding. So of course it was also raining on the plane and I wasn't able to get very good photos. It ended up raining on and off the entire week we were there. The locals said it was really unusual to get that much rain.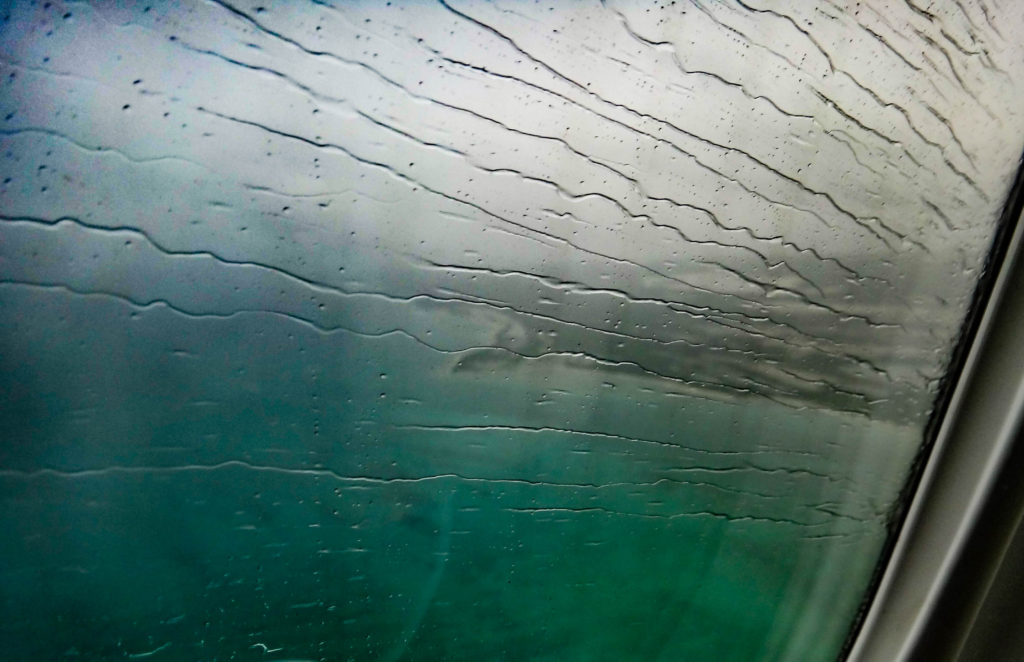 Where to Stay
We stayed at same place as we did last time we visited Turks and Caicos – the Windsong Resort. We got a 2 bed 2 bath room with a full kitchen and laundry. My favorite part of this resort is that there are doors that go out to the balcony that open all of the way. The resort is located on Grace Bay Beach which has been voted the World's Best Beach several times. It is a great beach to walk on and you can walk pretty far either direction on nice smooth sand.
Cameras
Before we left, I knew that I wanted to try to get some photos that showed under the water and above the water at the same time. None of the cameras that I owned had the ability to do that. So I decided to purchase a GoPro. I got the GoPro Hero 7 Black along with the underwater dome that is necessary to get those kind of shots.  It took me awhile to get used to this new camera since it is unlike any other I have used before. However, I was able to get some really great photos of the coral reef and a parasailer in the sky. What I like so much about these photos is that is shows something that a human cannot actually see. Of course I also brought my Nikon D810 and two point and shoot cameras because you can never have too many cameras. I did have to delete photos halfway through the trip though since I ran out of memory. Whoops. At least you can delete photos you don't want and don't have to buy new film anymore.
Things to Do
Sightseeing Around the Island
We never used to travel to places that drive on the left side of the road because my dad didn't want to do it, but he realized that really limited us so we gave it a try and it wasn't as difficult as he thought. It was even easier to drive on the left this time since he had done it before and we knew the island. If you have never driven on the left before, Turks and Caicos is a good place to start. There is not a lot of traffic, but usually someone to follow.
Sapodilla Bay
There are several beautiful beaches you can visit on the island. The first one we went to was Sapodilla Bay. It is a public beach with limited parking by the beach access, but there is a gravel lot across the street that is technically for Las Brisas. We did park there since we were going to eat at Las Brisas after we took photos anyways. Sapodilla Bay is not a large beach, but the ocean is really shallow and you can easily walk through the bay.
Chalk Sound
Chalk Sound is another great area, but it is difficult to get to a spot to see it. It can be seen well and you can rent kayaks at Las Brisas. Otherwise you have to drive through neighborhoods to see it.
Long Bay Beach
Long Bay Beach offers a large beach that has winds that are great for windsurfing. For some reason no one was windsurfing that day. Last time we were here there were about 30 people windsurfing. This beach is difficult to find. The public access is behind a hotel. It works best to follow the directions on the kite surfing school website.
Day Trip to North & Middle Caicos
Getting There
A 20 minute ferry ride will take you to Middle Caicos and from there you can drive to North Caicos. GPS doesn't work great on either island so we always use the map the rental car company provides. Very few roads actually have names, but there are not very many roads in general which makes the map pretty easy to follow. However, the map is not to scale so it is difficult to tell how far away different areas of the islands are. There were more people on the islands this time compared to two years ago when we went. Though, we still hardly saw any people at all.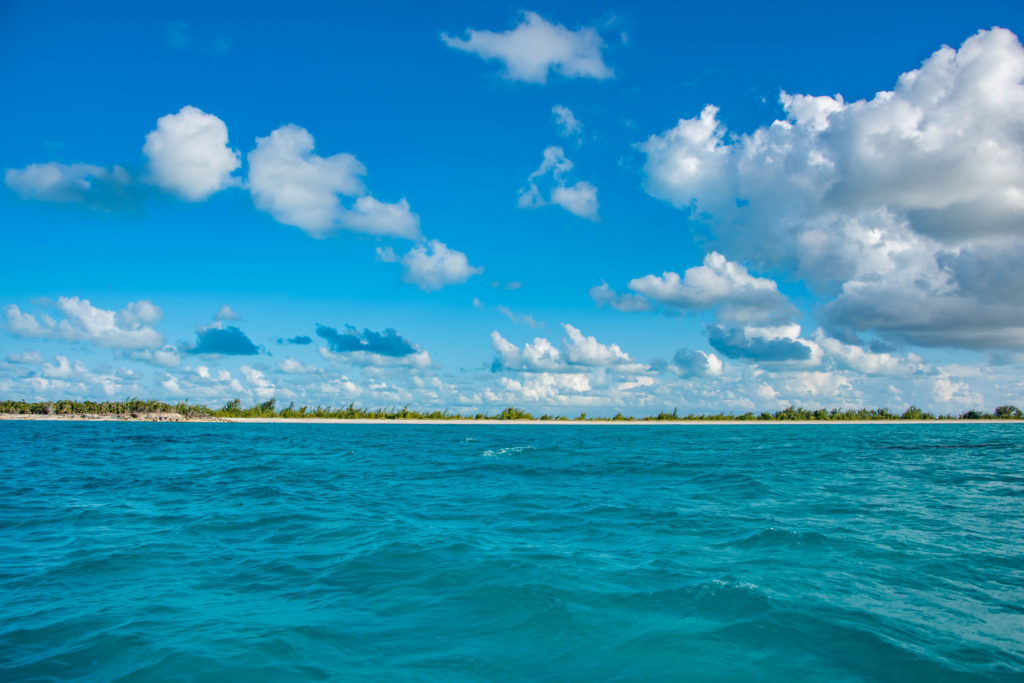 Flamingo Pond
We knew the places we wanted to go to from our last trip. The first stop was Flamingo Pond. It is an outlook that overlooks a pond with hundreds of flamingos. Last time we were there, there was a dumpy little pink building with a flamingo painted on it which was how the locals told you to find it. Well, they painted the building since we were there and it is now blue with no flamingo. It looks a lot nicer, though I do think they should have kept the flamingo. The building is now open to visitors and you can rent binoculars and purchase some local art. I really liked a lot of the art that they had. My mom got a handmade flamingo plate and I got a flamingo bowl and bat ring dish from the same artist.
Mudjin Harbor
From there we went to Mudjin Harbor. We were the only people on the entire beach. There is an island that is really close to the shore that you could walk to when it is lower tide or if you had the proper clothes on. The water is pretty rough at this beach and there are quite a few rocks so it is not ideal for swimming. There is a restaurant at the top of the hill, Mudjin Bar & Grille which we also ate at last time. From the restaurant you can see a trail to the top of the hill. We did not go up there last time since it is fairly steep and my mom and I had sandals on. My dad decided to try it this time and he told us to wait to see if it was worth it. Once he got to the top he motion for us to come up. We both carefully climbed in our flip flops. It wasn't horrible, but wasn't particularly fun either. When we got to the top, we could see why he wanted us to hike up there. The views of the island were spectacular. We ran into one of the other groups that was on the ferry with us and noticed that they had a guide with them. We watched the guide take them down the hole in the cliff. Again we had my dad go first. Also, not a fun climb in flip flops, but it did bring us down to a private beach. The only way to get to that beach is by that path or by boat. When we went back up and were walking around on top of the cliff I spotted a much easier path to get back to the parking lot. It is technically for the villas that are there as it leads right to the back door, but we didn't think they would mind.
Bambarra Beach
Our next stop was Bambarra Beach. The last time we were here, there were shacks made out of palm leaves that were kind of run down much like the building at Flamingo Pond. They had also been redone since we were there. They are now a rainbow of bright colors and look so much nicer. Of course we all had to pick out the one we wanted and I went with the green one with the orange door. The ocean at Bambarra Beach is really shallow and there is an island off the shore that you could walk to. This one is farther out than the one at Mudjin Harbor. We were not able to walk out into the ocean as far this time since the tide was in and the water was deeper. We could have walked to the island if we had different clothes though.
Flamingos
After we walked around Bambarra Beach, we had some time before we needed to be back at the ferry. I decided to go to a few other ponds where there might be flamingos. I was giving my dad directions to the next spot and I told him to continue straight. He was hesitant since the road wasn't paved, but I assured him that it was the correct way to go according to the map. Of course, as I mentioned earlier, this map has no scale so I have no idea how far it was to the pond but it felt like forever on the unpaved bumpy road. We finally got to the pond and there were several flamingos walking around in the pink water. After we got some photos, it was time to head back to the ferry. I told my dad the quickest way back was to continue on this road. As we continued on the road, it got narrower and narrower and we were complete surrounded by trees. It felt more like a hiking trail than a road. We were getting really concerned that we wouldn't make it back to the ferry in time and it was the last one of the day. After what seemed like forever, we finally saw a real road at the end. It dumped us out right at the ferry like the map said it would. However, the map failed to mention that it is not really a road. I don't know what we would have done if a car had been coming in the other direction. Immediately after getting off that terrible road I scratched it off the map and next time we will just turn around.
Horseback Riding
We went horseback riding the last time we went to Turks & Caicos, however, the company we went with was no longer in business so we deiced to try Provo Ponies. It got really good reviews, but what we liked about the other company was that is a private ride (mostly because they only had 2 horses). There were about 15 people on the ride with us. One of the workers carefully selected who would get which horse since they all had distinct personalities and all had other horses that they did not get along with. Once we got on our horse, we received instructions specific to that horse along with the list of horses to avoid. It seemed pretty complicated because the brown horse didn't like the gray horse and the gray horse didn't like the black horse but the black horse had to be by the brown horse and the white horse had to be in front but not by the gray horse. The information was helpful but difficult since there were so many horses that had a problem with at least one other horse. It would have made it a lot easier if they took out fewer people at a time but of course I understand why they do it. I did like that when you got on your horse one of the workers told you about the weird quirks your horse has. My horses name was Spirit – as you can image he got that name for a reason. They do make sure that you are comfortable handling your horse. Spirit was a difficult horse, but since I had been riding before I was comfortable with riding him. They told me that they like to call Spirit twinkle toes since he is always hesitant about getting in the ocean. He sees all of his friends get in but he is just not sure and the water might be cold. Of course they were right. When we got to the ocean, Spirit and I were the last ones in but he did fine. My dad got Thor which is a huge draft horse that enjoyed walking at a very leisurely pace. We did have to walk on the street which is not my favorite as some of the horses get nervous around cars. All of the guides were really good about taking a lot of photos for you and made sure to get photos with the rest of your party.
Parasailing
I had never been parasailing before and didn't really have any interest until recently when I have been seeing all of Gray Malin's aerial shots and I thought it would be a good opportunity to take photos. Of course it's not really the same since he shoots from a helicopter, but since I don't have access to a helicopter this seemed like the next best thing. I am so glad I went it was so much fun and I was able to get great shots of the turquoise water. You could see so many shades of blue. We talked to our hotel concierge about wanting to go parasailing and he called one of the companies and they picked us up right from the beach. The boat that you go out on is specifically designed for parasailing so it is really easy to take off and land.
Snorkeling
The resort we stayed at is right by the best coral reef on the island and you can walk into the ocean and look down and see a bunch of brightly colored tropical fish and coral. Last time we visited Turks & Caicos, we snorkeled in this area but did not go all the way around the reef. This time we decided to try it and all four sides offer different things. The right side of the reef is where you will see a lot of the colorful fish, the back is where most of the coral is, the left is a grassy area in which turtles like to swim through and the front is really shallow with a lot of coral. We weren't really fond of the front area since we all felt like we were going to run into the coral.
Sunset Cruise
Last time we went to Turks & Caicos I read about the glow worms that you can see in the ocean for 3-5 days after a full moon. We did not time it right to see them last time, but this time it happened to work out. We booked a tour Sun Charters for a sunset cruise and viewing of the glow worms. The boat was a large sail boat and we went on the tour with about 20 other people. The tour took us out to get a good view of the sunset. This was actually the first one we saw this trip since it had been raining or cloudy every other day. They provided drinks and snacks as we sailed around. After it got dark, they took us out to a shallow area and we waited. The captain was pretty accurate about when we would start to see the glow. There weren't nearly as many as I thought there would be and the glow doesn't last very long. It was neat to see, but overall not that exciting. We did enjoy the cruise, but don't feel that you need to plan around seeing the glow worms.
Where to Eat
When we arrived at our hotel, of course we were all hungry. Since it was raining and we were tired, we decided to eat lunch at the resort. All of us had burgers and they were very good. The rain stopped by the time we were done eating so we took advantage and walked on the beach.
The Windsong Resort offers a free continental breakfast in which you can pick three options off the menu. However, we usually ordered from the regular breakfast menu. I got the brioche French toast with pineapple topping and orange whip cream several times and I also ordered the decadent pancakes which were topped with bananas and chocolate sauce. Both meals were excellent.
For dinner the first night none of us really felt like going out so we decided to order pizza. There were two options that would deliver, both had great reviews but one didn't have a menu online so we decided to go with the other. We called Mother's Pizza to order and they said it would be about 45 min for delivery or we could pick it up in 20 minutes. None of us wanted to wait that long so we picked it up. They told us that the restaurant was kind of hard to find since they didn't have a sign. They were right – it was difficult. The restaurant is in the back corner of the shopping center with no sign with their name on it, but there was a sign for the company that was in the space before them. The restaurant was really nice inside but there weren't many people inside, it was late though. We got a garlic, sausage, bacon pizza and it was really good.
After taking photos at Sapodilla Bay, we ate at Las Brisas on Chalk Sound. There was only one other group at the restaurant (we typically eat at weird times on vacation since we are trying to get so much stuff packed into the trip) so we got to sit by the water and had a great view. The food was really good. I ordered a sausage pizza and a banana smoothie which was perfect for a hot day.
I had prepared a list of restaurants before our trip. I knew which ones we went to last time and wanted to go back to this time. There was only one restaurant that we did not like last trip. One night we were looking for a restaurant on yelp and my mom found one that sounded good. I approved her choice since it happened to be one that was on my list anyways. We put it in our GPS and started driving to it. We were heading towards the shopping plaza that Mother's Pizza is located at. My dad was making jokes about it being in the same plaza as Mother's and I said that it couldn't be because it was on the water. Well I was wrong. We got there and they seated us outside away from the crowd which was nice since it was like we were at our own private restaurant. We asked our waitress if they used to be on the water (because I had to make sure I wasn't going crazy) and she explained to us that they were renting their old location on the beach and after the hurricane, the owner wasn't sure if and when he would rebuild so they found this new location. She told us that shortly after they left, the owner rebuilt and there is already another restaurant there. It was still a nice location and the food was as good as I remembered.
We went to the Somewhere Café several times on our trip. It is located on the beach next door to where we were staying. They have good food and of course a great view. You can sit outside downstairs or upstairs. We ordered the chips and guacamole appetizer, burger and fries and the pulled pork quesadilla – all of which were really good.
After a day out exploring the island we were debating whether to go to Shay on the Beach or Da Conch Shack. The two restaurants are right next to each other and I had heard a lot about Da Conch Shack but since no one in my family is a big fan of conch (which is 90% of the menu) we decided to go with Shay on the Beach. This is the restaurant that took over the space where Kalooki's used to be. It is right on the beach and we were the only people at the restaurant (again with the weird eating times). I had another burger (I don't like seafood – not great for visiting islands) and a banana smoothie. It was the best burger I have ever had. There are a few little shops on the beach by the restaurant and my dad ended up buying a flag. His new thing is collecting flags from all of the countries we visit.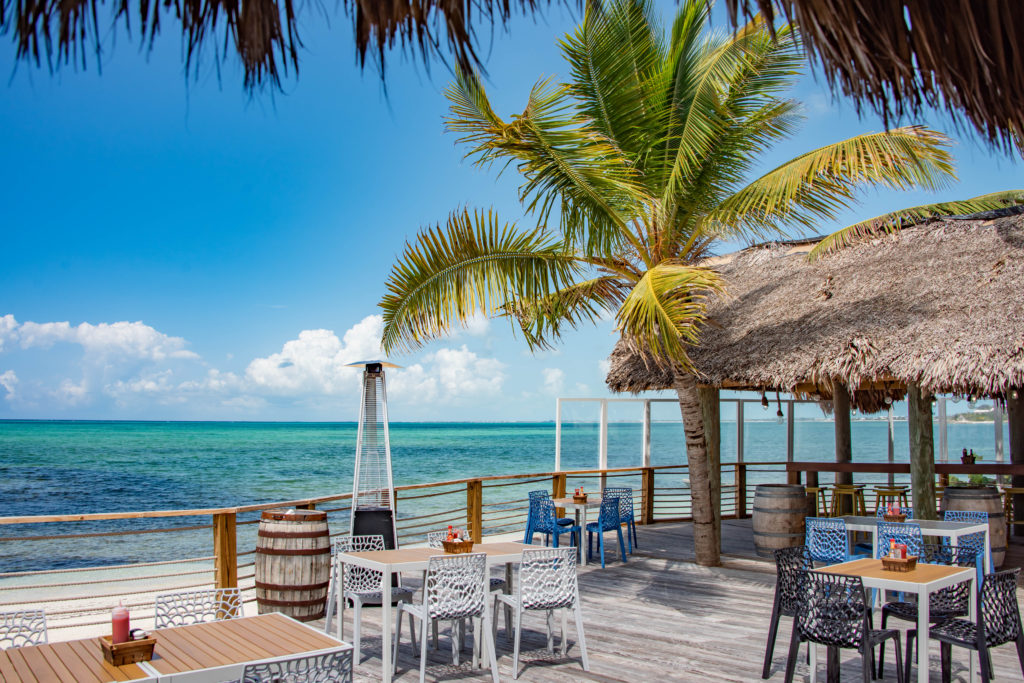 When planning this trip back to Turks & Caicos, I knew I wanted to go back to Mango Reef. It is a fairly large restaurant that is located on Turtle Cove. All of the tables are outside, but some do have cover over them. We started out at a table that wasn't covered but ended up at one that was since of course it started to rain. We like to go to this restaurant at dinner time as opposed to lunch since you get to see all of the colorful lights the restaurant is decorated with. I had a steak with French fries and vegetables and it was great. I highly recommend getting the raspberry macaroon with ice cream filling. It was the best dessert we had on the island.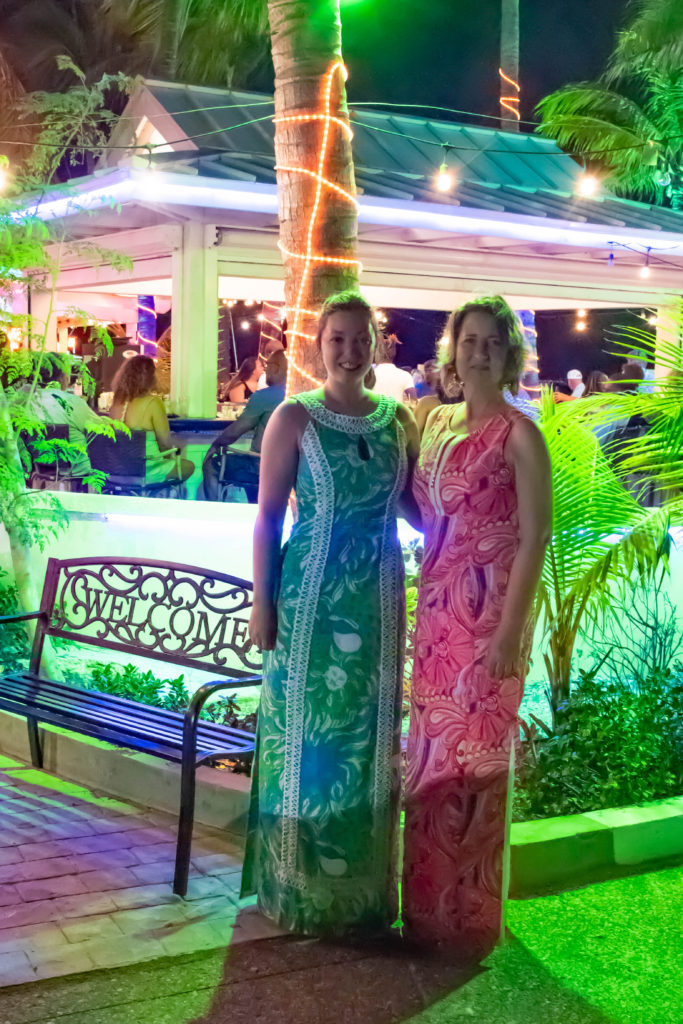 Our sunset cruise ended around 8:30 and we were starving. The St. Louis Blues were playing in a playoff game that night, so my dad required the restaurant to be a sports bar. We had driven by Danny Buoys several times since it was basically across the street from Mom's Pizza and Kalooki's. Unfortunately when we got out the car we realized that it was karaoke night – but we didn't have a choice since we HAD to watch the Blues game. The restaurant had several different areas that you can eat in. Most of the seating is outside but there is an indoor section that is air-conditioned and has a casino. We found the group of Blues fans at the bar and sat by them. My parents both got pasta which they should have shared since it looked like each meal was one entire box of pasta. I got the chicken parm sliders which were really good. Oh, and the BLUES WON!
The last night we were there, we ate at Baci Ristorante. The food was excellent and the dessert was one of my favorites of the trip. We had Panna Cotta with blueberry sauce. It was so different from any dessert that I have had before and was perfect light dessert after a heavy Italian meal.